The Minister's Innovation Challenge
The challenge provides opportunities for Year 8 students to engage in entrepreneurial learning. With support from industry mentors, students apply design thinking, developing innovative solutions to a local issue or problem.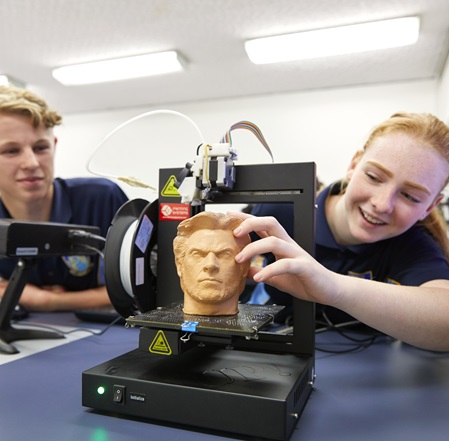 In 2022, teams of Year 8 students from 20 public schools across all 8 education regions were selected to participate in the inaugural Minister's Innovation Challenge. The Challenge provides an opportunity for a broad range of Year 8 students to develop design thinking and entrepreneurial skills. The challenge was facilitated online by Generation Entrepreneur who deliver high school entrepreneurial programs to empower the youth of Australia.
The Minister's Innovation Challenge 2022
Overview of participating schools
Participating schools and their projects
Teams worked with an industry mentor to identify and solve a local issue or problem. Teachers were supported to help students use design thinking to develop innovative solutions. A summary of the problem statements and solutions provided by the school teams is listed below.
| | | |
| --- | --- | --- |
| | | |
| Albany Senior High School | People can't find out which restaurants dispose of their food in an eco-friendly way. | An App (Eco Albany) that tracks restaurants in the Albany region and their current food waste solutions, allowing the community and tourists to identify eco-friendly restaurants. |
| | People are not aware of carbon footprint. | App to track carbon footprint. |
| Armadale Senior High School | Reduce assault-related crimes in Armadale. | App to ensure residents can safely travel around the area. |
| Broome Senior High School | Tourists in Broome often find it hard to find suitable accommodation. | A travel pack that is portable and reusable – provided upon arrival and returned on departure from the bus stop. |
| | Teenagers are not utilising recreational spaces – less than 10% are meeting current guidelines for physical activity. | Sports recreational event which promotes young people to socialise and exercise. |
| Christmas Island District High School | Half of turtle observers use white light when observing them at night. During nesting, sea turtles are easily disturbed by light. Once they return to the water, they might not have the opportunity to re-lay their eggs. | Mobile red-light filter that helps observers see turtles at night without harming them. |
| Dongara District High School | Poor mental and physical health of teenagers in the area. | Outdoor activity centre for teenagers. |
| Exmouth District High School | In 2023, there will be a total eclipse over Exmouth attracting more tourists than the town can handle. How might we provide information to tourists visiting Exmouth, so they can enjoy the region without negatively impacting the environment? | An app which delivers relevant information to tourists that will ensure that visitors have an enjoyable and worthwhile experience whilst preserving the natural environment. |
| Hammond Park Secondary College | Improve mental health and wellbeing for students at school so they feel less stressed and anxious. | Student-led wellbeing committee to support fellow students with their wellness. |
| Jurien Bay District High School | Job shortages for youth of Jurien Bay. | Online job search platform. |
| Kelmscott Senior High School | Different brands have different measurements for their sizes making it hard to buy the correct sized clothing. | An app that allows consumers to compile and interpret different brand size guides all in the one location. |
| Morley Senior High School | Students face a great deal of stress and anxiety, in school, at home or out in society. | A music platform made by students for students where teachers can play in class to help reduce anxiety, help improve focus and allow for success in school to help improve students' quality of life. |
| Mount Barker Community College | Rural isolation is a common problem in small towns and often affects teens mental and physical health. | The product proposes a support network to teens affected by health issues in isolated areas through an app. |
| | Improve rubbish collection for the local community. | Drone that can pick up rubbish on the beach. |
| Northam Senior High School | How to bring together the school community. | Community garden that everyone can contribute to. |
| Ocean Reef Senior High School | How might we provide information on sustainably sourced seafood options, for ethical consumers, so they can make an informed decision when purchasing seafood. | An app that grants users access to a scanning page, allowing them to scan seafood products. Once scanned, information about the products sustainability, carbon footprint and ethics is displayed. |
| Ravensthorpe District High School | Teenagers who like sport cannot play competitively due to lack of other like-minded students in the same area. | App that coordinates bus network to take students from surrounding towns to central areas so they can compete in sport. |
| Tom Price Senior High School | Inadequate and insufficient health services and systems in Tom Price. | A first aid app (MedBet) acting as an emergency response tool that has an S.O.S button, Emergency contact, track your help, first aid steps, and nearest hospital contact and location. |
| Willetton Senior High School | Protect online interactions for all young internet-users to avoid invasion of privacy, and exposure of personal data. | Online assistant to keep you safe online. |
2022 winners
The Challenge took place over 4 weeks in Term 4 and culminated in an online exhibition where the Minister for Education announced the top 3 award winners. Below are the videos of the final pitches from the inaugural challenge winners.
First place
Christmas Island District High School
Second place
Hammond Park Secondary College
Third place
Exmouth District High School
Feedback
The feedback below captures the sentiments of the teachers who were involved in this year's challenge.
Such a positive and valuable experience for our school. I can already see a few of my students processing their own little business ideas! I do believe this has opened up a few of the kids minds to starting their own ventures … embedding such skills into their learning environment will only put them at an advantage when leaving school!
The partnership between the Education Department and Generation Entrepreneur! Great to be a part of an Industry program that is so enthusiastic and encouraging!

The pre-prepared slide shows (from Generation Entrepreneur) were good for showcasing what the students had to do. The idea behind the challenge is great and the skills that the students picked up were valuable.
The industry mentor was really helpful and the students enjoyed being able to ask questions. The weekly lessons were organised well and pitched at the correct level.
The challenge itself was fun and engaging and setup worked well with the pre-recorded lessons from Generation Entrepreneur. Having an industry mentor was helpful and gave an outside opinion and guidance on the project.
The Generation Entrepreneur resources, organisation and feedback were great. Very enthusiastic and contagious.