Module 1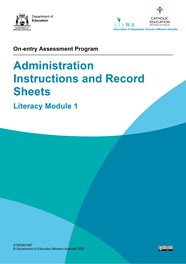 Document
Literacy module 1 (reading, speaking and listening and writing)
Administration instructions and record sheets for literacy module 1 reading, speaking and listening and writing
Document
Module 1 resources
Resources to support module 1 activities.
Document
Writing marking guide
To ensure consistency of marking and validity of progress measures, it is essential that all students' writing is accurately scored.
Document
Pre-primary writing exemplars
These samples should be used if relevant and in conjunction with the full On-entry Writing Marking Guide.